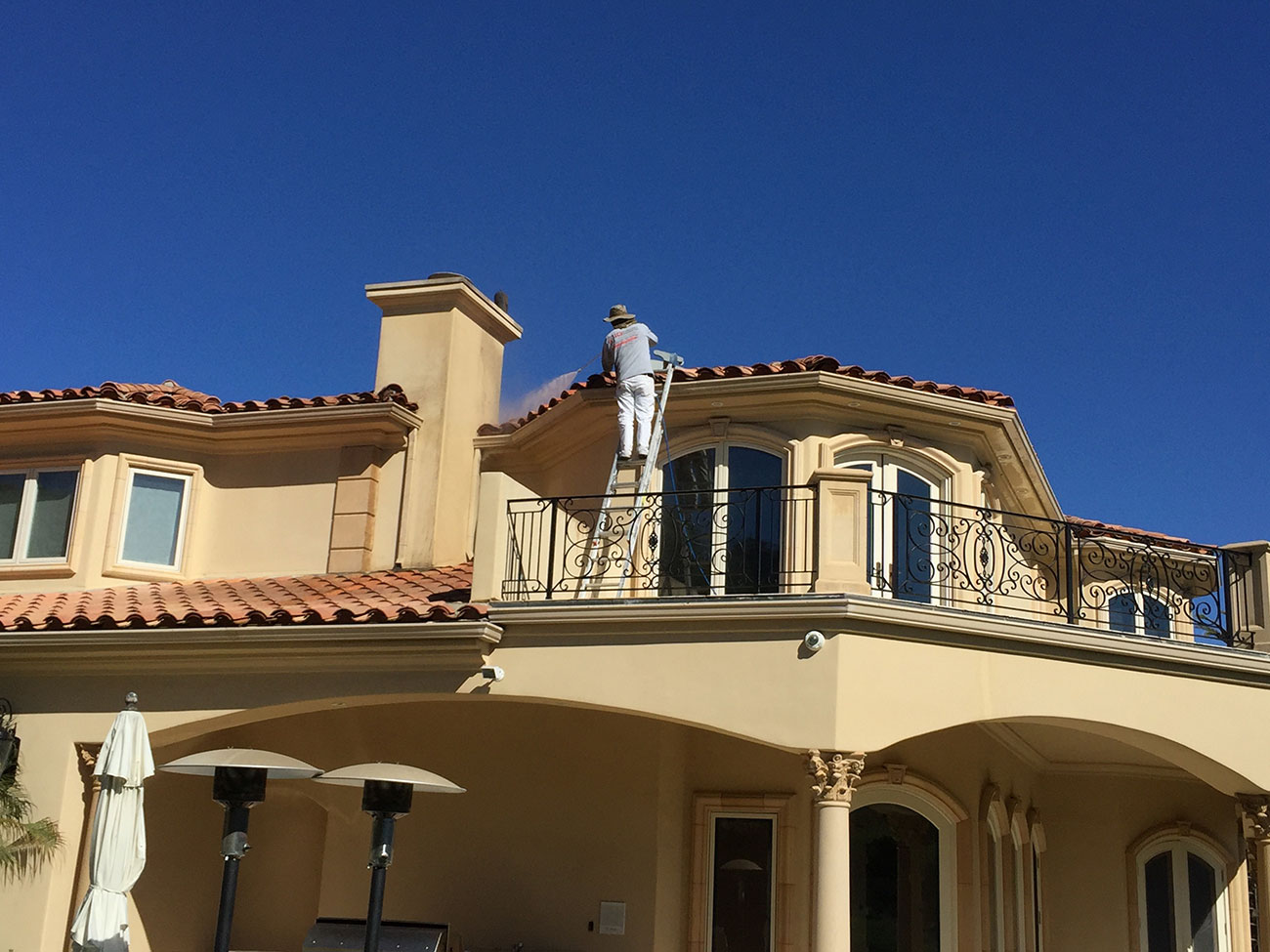 <ul><li><a href="https://www.trustlink.org/Reviews/JCs-Professional-Painters-206061076" target="_blank"><img src="/wp-content/uploads/2016/08/trust_link_badge_icon.png"></a></li><li><a href="https://www.angieslist.com/companylist/us/ca/thousand-oaks/jc%27s-professional-painters-reviews-7364269.htm" target="_blank"><img src="/wp-content/uploads/2016/08/angies_list_badge_icon.png"></a></li><li><a href="http://www.bbb.org/santa-barbara/business-reviews/painting-contractors/j-c-s-professional-painters-inc-in-thousand-oaks-ca-92007136/" target="_blank"><img src="/wp-content/uploads/2016/08/bbb_badge_icon.png"></a></li></ul>
POWER WASHING SERVICES
WESTLAKE VILLAGE & THOUSAND OAKS, CA
Power washing or "pressure washing" is an important first step in preparing exterior surfaces, it is key to achieving the maximum effects of primer and paint adhesion for a long lasting exterior finish.
J.C.'s Professional Painters prepares residential and commercial exterior jobs by power washing to remove dust, dried mud, street scum, black stains, mold, cobb webs, flaking paint and "mystery stains" from walls, stucco, siding and fasica for optimal paint adhesion.
How does the company prepare for a power washing appointment?
Before we begin, we make sure to walk the perimeter of the home or business to look for any areas that could pose a potential challenge. We identify where water could possibly leak into the home or building, and look for the small details to ensure power washing will go smoothly. We check the roof for loose, broken or missing tile and cover outdoor furniture, fire pits, decorative pieces, windows, stained doors, pools and water features.
We always remind our clients on the evening before to double check that all doors and windows are securely closed the morning of their power washing appointment.
How long does it take to complete a power washing appointment?
The actual power washing job takes about 6-7 hours depending upon the size of the home's or building's exterior.
Does the client need to provide anything for the power washing appointment?
We use our own equipment, but we do need to use our clients' water source(s).
"It's basically a maintenance agreement", says J.C., who believes maintenance, such as power washing will extend "the life" of exterior paint. "Removing cobwebs, bird droppings, dust and tree sap refreshes the exterior, and makes it look 'new again'. Optimally power washing services are recommended every 2 years. Scheduled power washing services are available upon request."
What are the other surfaces that can be power washed?
J.C.'s Professional Painters offers power washing services to freshen up exterior surfaces such as patios, wooden and pool decks, pool and jacuzzi covers, patio-covers, patio furniture, Gazebos, brick walls, fences, driveways, garages and garage doors, gutters, walkways, tool sheds, and horse barns.
Fun Fact:
We have even been called to power wash before special events such as open houses, garden parties, and weddings receptions.
FEATURED TESTIMONIAL
"Looks like new again–so fresh and clean!"
Thank you very much to J.C.'s Professional Painters, Inc. for doing such a beautiful job on the exterior of our home. It looks like new again-so fresh and clean! We were very impressed with your pressure washing services. Your crew was timely, neat and totally professional.
– The "Avey" Family, Eagle Ridge, Westlake Village
What communities does JC's Professional Painters serve?
We serve the Conejo Valley and surrounding areas; Westlake Village, Thousand Oaks and Agoura Hills.