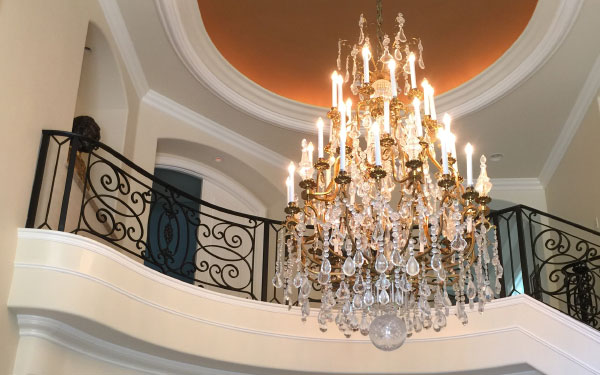 <ul><li><a href="https://www.trustlink.org/Reviews/JCs-Professional-Painters-206061076" target="_blank"><img src="/wp-content/uploads/2016/08/trust_link_badge_icon.png"></a></li><li><a href="https://www.angieslist.com/companylist/us/ca/thousand-oaks/jc%27s-professional-painters-reviews-7364269.htm" target="_blank"><img src="/wp-content/uploads/2016/08/angies_list_badge_icon.png"></a></li><li><a href="http://www.bbb.org/santa-barbara/business-reviews/painting-contractors/j-c-s-professional-painters-inc-in-thousand-oaks-ca-92007136/" target="_blank"><img src="/wp-content/uploads/2016/08/bbb_badge_icon.png"></a></li></ul>
INTERIOR PAINTING SERVICES
THOUSAND OAKS & WESTLAKE VILLAGE, CA
There are many aspects to take into consideration when painting the interior of a home. From prep work and color selection to respecting living spaces and keeping the home environment as safe and as comfortable as possible, paying attention to detail has always been first and foremost for J.C.'s Professional Painters.
With the exception of a complete remodel, we work on interiors "section by section" at the homeowner's preference, and put rooms back the way we found them so living spaces can continue to be utilized while the job is in progress. At the end of each workday, our ladders, tools, and materials are kept in a designated area away from children and pets. Cleanup is as important to us as it is to our clients.
Our Interior Painting Process
We begin by protecting artwork, furniture, framed photos, and covering hard floors with heavy duty grade rosin paper and protecting carpets with carpet-shield. We have high standards in paying attention to detail during the preparation process, which leads to a long-lasting, beautiful end result. It goes without saying that every interior has its unique aspects and challenges, but each interior gets our "signature care" – such as removing light fixtures and hardware as opposed to covering them to ensure a clean, finished look.
To achieve an even look throughout the home we repair cracks, fill nail holes, and add texture to walls to match existing texture as much as possible.
New drywall always receives two coats of primer and two final coats.
Woodwork such as baseboards, trim, crown moldings, mantels, staircases, wainscoting, and doors are sanded, primed as needed and applied with a finish coat. Bare wood always gets two coats of primer, caulking, nail holes filled, and two finish coats.
We do our best to make acoustic ceiling removal as pleasant and as clean as possible by covering air conditioning vents and protecting furniture and flooring.
We also offer special finishes such as Stainwork, Lacquering, Faux-Finish, Glazing, Cracking, Metallic, Patina and Raging. We're happy to help you choose the right finish with a free Special Finish Consult for all interior woodwork and/or furniture.
When it's time to paint the walls and ceilings, we take the time to help our clients confidently choose the colors and accent colors they had in mind. If the fan deck seems overwhelming, we work with our clients to make sure color selection is enjoyable and gratifying.
We offer free "special-finish consults" to help our clients choose the right finish and stain color for interior woodwork and/or furniture. When it's time to paint the walls and ceilings, we take the time to help our clients confidently choose the colors and accent colors they had in mind. If the fan deck seems overwhelming, we work with our clients to make sure color selection is enjoyable and gratifying.
Do you work with other design professionals?
Our goal is for our clients to absolutely LOVE the colors they choose. If the situation should present itself, we will work hand-in-hand with interior home decorators and designers. We proudly collaborate with Gina Baccaro, Special Finish, and Decor Artist.
Do you work with insurance companies?
We work closely with insurance companies whose clients need restoration work done. We are skilled at restoring interiors and even fulfill fire department requests to use shellac primer to remove the odor caused by fire and water damage. Quality is our policy.
What should I do to prepare my house for painting?
Our painting crews protect all your furniture, fixtures and floor coverings when they prepare the area. We do ask, however, that you clear the room of small items and breakables. We can move larger items out of the way upon request.
How long does interior painting take?
An average interior room takes us a day and a half. We can frequently finish within a day, but because of dry times and touch-ups, we may need a few hours the following day to complete a room. If you are doing several rooms at once, things go a little faster because we can work in a second room while the first room is drying.
Do I have to be home when you are painting?
Only if you wish to be! We know you're busy, and painting doesn't have to get in the way. While you're gone, our crew will be busy prepping and painting your home. In fact, most of our clients prefer to be gone while the work is in progress. Our crews work full-time for us and only us, so you can feel safe knowing a trustworthy, responsible team is in your home.
Can I match my current paint color?
Yes! Many people "inherit" their home's paint colors when they move in and wish to keep it the same. Paint companies now have the technology to take a very small sample (chip) of paint and match it. Just let us know which color/wall you'd like to replicate and we will take care of the rest!
How long can I expect my interior paint job to last?
On interior projects, bubbling and peeling are not a typical problem in most areas where moisture and heat are not present. Homeowners with pets and children will notice more nicks, dents, and dirt faster. We recommend paint with a higher sheen in these cases, especially in the hallway or children's bedroom, so that most of these things can be wiped down.
FEATURED TESTIMONIAL
"I am very happy with my fresh new house…"
To J.C.'s Professional Painters, Thanks for the great job you did on painting the interior of my house. Here is what I appreciate. 1) You were on time for every appointment, and you provided an estimate in a timely way. 2) You let me know what to expect and when, and your crew was always on time and polite. 3) You started and finished the work on time. I had a deadline due to guests arriving and you put in the extra effort to make sure everything was done in time. 4) Your preparation work was thorough, the painting was thorough, and the cleanup was thorough. 5) Each day your crew left things arranged neatly so that I could function in the rooms where I needed to function. 6) You had good suggestions about small improvements.
Overall, I am very happy with my fresh new house. My friends say it looks great and they think you did a great job as well.
Thanks again!
– K. Karns, Woodland Hills
What communities does JC's Professional Painters serve?
We serve the Conejo Valley and surrounding areas; Westlake Village, Thousand Oaks and Agoura Hills.