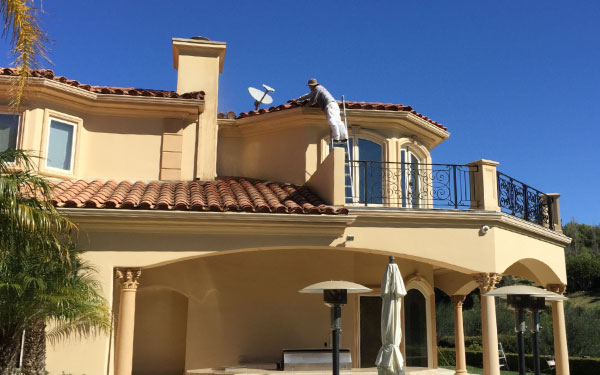 <ul><li><a href="https://www.trustlink.org/Reviews/JCs-Professional-Painters-206061076" target="_blank"><img src="/wp-content/uploads/2016/08/trust_link_badge_icon.png"></a></li><li><a href="https://www.angieslist.com/companylist/us/ca/thousand-oaks/jc%27s-professional-painters-reviews-7364269.htm" target="_blank"><img src="/wp-content/uploads/2016/08/angies_list_badge_icon.png"></a></li><li><a href="http://www.bbb.org/santa-barbara/business-reviews/painting-contractors/j-c-s-professional-painters-inc-in-thousand-oaks-ca-92007136/" target="_blank"><img src="/wp-content/uploads/2016/08/bbb_badge_icon.png"></a></li></ul>
EXTERIOR PAINTING SERVICES
THOUSAND OAKS & WESTLAKE VILLAGE, CA
Our exterior painting services in Thousand Oaks and Westlake are truly one-of-a-kind! We know how much there is to consider when painting the exterior of a home. Exterior paint serves as a barrier of protection from the elements. Our goal is not only to beautify a home but to create a long-lasting end result.
Painting a home is a major undertaking, and we understand the importance of thorough preparation. That's why our team often spends just as much time preparing the exterior of your home as we do on the actual painting job itself. Doing so ensures the job will stand the test of time for decades to come! Each exterior is unique and will have different challenges, but each and every home will receive our Signature Care.
Our Exterior Painting Process
We start by inspecting the roof for loose, damaged or broken tile before the power-washing process.
We remove fixtures and hardware, trench the foundation, cover the windows, and protect the landscaping especially delicate flowers and plants by using light weight drop-clothes.
We use tarps during the sanding process to keep pools and Jacuzzis free of dust and flaking paint.
After the covering process, we repair cracks in the stucco or plaster and "prime the stucco or plaster completely" as opposed to "spot-priming". Applying the appropriate materials are important steps that need to be taken in order to delay the fading process.
In priming and painting stucco and plaster we "spray and backroll" for optimal adhesion to create a uniform look.
All woodwork (eaves, fascia, siding, doors, and garage doors) will be inspected for signs of dry rot and/or termite damage and replaced if necessary.
Wood found in good condition is sanded to remove flaking paint.
Priming, caulking and filling open gaps are final steps before masking tape. Paper is used to create straight lines for the final coat.
Aside from home exteriors, our other exterior work includes gazebos, patio covers, and decks, as well as iron and wooden fences.
We know that painting the exterior of your home is a large undertaking and the very thought of starting such a project can be daunting. That's why J.C.'s Professional Painters in Thousand Oaks offers affordable rates and honest, upfront quotes, so you know exactly what to expect. We're here to help you create the look you want at a budget you can afford!
Company Note:
J.C.'s Professional Painters is an environmentally conscious company.

We only clean our tools in owner designated areas to avoid damaging lawns and plants. We avoid cleaning our tools in places where runoff may go to the lake. Portable toilets are rented upon request.
Why should I hire a professional painter?
There are many reasons to hire a professional to paint your home or office. Besides being more time efficient, hiring painting contractors ensures your project meets health codes, is properly prepped and cleaned up, and provides a professional finish. Rather than hassling with ladders, toxic fumes, and messy cleanup, hire professional painters to get the project done quickly and skillfully!
What type of paint do you use?
We like to pair the paint we use with the job we are doing. Most commonly we use Benjamin Moore, Sherwin-Williams, and Hirshfield. If there is a different paint brand or type you would like to use, we are more than happy to use that as well. Just ask!
Do you provide touch-up paint after you finish?
Yes! Once we've completed painting, we provide all the leftover paint for the touch-ups. We can also remove and properly dispose of your old paint as well, just be sure to inquire about our removal service when our estimator comes to your home!
Are you a licensed and insured painting contractor?
Yes, our painting company has been fully licensed and insured since 2007 by the State of California. This means that not only do we carry liability insurance, but we also carry workers' compensation insurance. This protects our team as well as you, the homeowner because unfortunately, injuries do happen.
How long does exterior painting take?
The length of a project varies. Most of the residential painting we do can be completed in less than a week, however, we also have jobs which take upwards of two weeks. Commercial painting projects can take longer depending on the size of the building(s). Throughout the entire project, we make sure to keep you informed of the timeline. If we think the project may take longer than expected, we let you know right away.
FEATURED TESTIMONIAL
"Courteous, clean, and reliable."
Your crew couldn't have been more courteous, clean and reliable. They arrived every morning and cleaned up every evening consecutively until the job was done. No gaps. This house is a complicated 2-story structure with wood siding and wood windows, yet everything went smooth and your craftsmanship was always meticulous. So was your thorough preparation which is the most important part of any job that's done properly.
– C. Enger, Thousand Oaks
What communities does JC's Professional Painters serve?
We serve the Conejo Valley and surrounding areas; Westlake Village, Thousand Oaks and Agoura Hills.