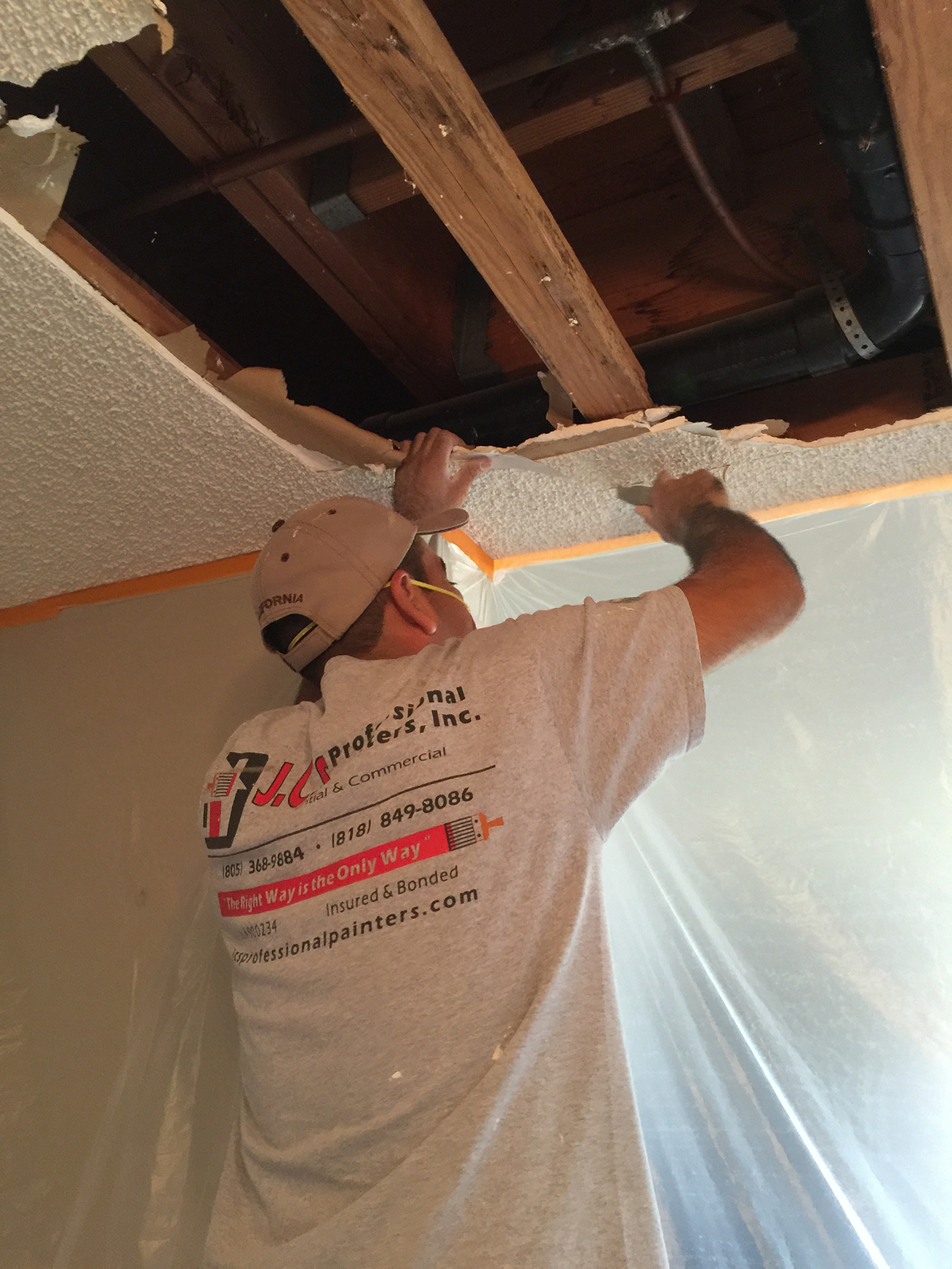 <ul><li><a href="https://www.trustlink.org/Reviews/JCs-Professional-Painters-206061076" target="_blank"><img src="/wp-content/uploads/2016/08/trust_link_badge_icon.png"></a></li><li><a href="https://www.angieslist.com/companylist/us/ca/thousand-oaks/jc%27s-professional-painters-reviews-7364269.htm" target="_blank"><img src="/wp-content/uploads/2016/08/angies_list_badge_icon.png"></a></li><li><a href="http://www.bbb.org/santa-barbara/business-reviews/painting-contractors/j-c-s-professional-painters-inc-in-thousand-oaks-ca-92007136/" target="_blank"><img src="/wp-content/uploads/2016/08/bbb_badge_icon.png"></a></li></ul>
DRYWALL REPAIR SERVICES
THOUSAND OAKS & WESTLAKE VILLAGE, CA
J.C.'s Professional Painters, Inc. offers drywall repair services to remedy wall and ceiling damage. We repair anything from settlement cracks to water or fire damage.
"Repairing drywall 'the right way' is an art, however, there is a lot more to take into consideration when repairing ceilings," says 'J.C.' of J.C.'s Professional Painters. "We look at natural light and its tendency to bring the eye to angles in a room. Angles can be challenging so texturing needs to be done more precisely to achieve an even finish."
How do you complete a drywall repair?
Our signature process always begins with protecting floors, carpets, furniture and personal belongings in the area where drywall repair will take place.
Damaged drywall is then removed; if the damage is due to a water leak, we typically remove more drywall to investigate the possible source of the damage and check for mold.
If the area needs reframing, we reframe it and add new insulation if needed.
The new drywall is installed and reinforced with fiberglass-mesh drywall-tape which provides "give" in case of settlement.
"Hot Mud" is then used to patch, and level the new drywall and blended into the wall or ceiling. "Patching a wider circumference than the damaged area is a great technique to blend the drywall patch with the existing area," says 'J.C.' "and Joint Compound is applied as a second coat to better sand the area."
Texture of the wall or ceiling is then matched and applied, camouflaging any visual imperfections.
We then let the drywall patch dry for 24 hours depending upon the weather. If it's damp and cold, the patch may need more time to cure.
The job is finally completed with two coats of primer, color matching the wall, and applying two coats of finish. In some cases, depending upon the size of the patch, we may need to paint the wall "corner to corner" to give it a "cleaner look". Nobody will ever need to know the wall was damaged in the first place!
Do you work with Insurance companies for Drywall Repair?
Yes, we do.
Fun Fact:
We've even been called for drywall repair after a cable provider climbed into an attic and stepped through the ceiling.
FEATURED TESTIMONIAL
"Extremely satisfied with J.C.'s attention to detail"
J.C.'s Professional Painters completed a painting and earthquake damage repair of my livingroom. The work was done in a timely and professional manner. In their preparation they took great care in protecting my antiques and carpet. I'm extremely satisfied with J.C.'s attention to detail and his many recommendations that added value to my home.
My wife and I highly recommend J.C.'s Professional Painters, Inc.
– M. Gunby, Thousand Oaks
What communities does JC's Professional Painters serve?
We serve the Conejo Valley and surrounding areas; Westlake Village, Thousand Oaks and Agoura Hills.