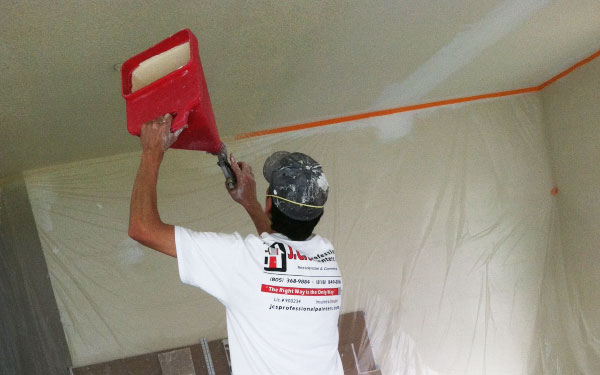 <ul><li><a href="https://www.trustlink.org/Reviews/JCs-Professional-Painters-206061076" target="_blank"><img src="/wp-content/uploads/2016/08/trust_link_badge_icon.png"></a></li><li><a href="https://www.angieslist.com/companylist/us/ca/thousand-oaks/jc%27s-professional-painters-reviews-7364269.htm" target="_blank"><img src="/wp-content/uploads/2016/08/angies_list_badge_icon.png"></a></li><li><a href="http://www.bbb.org/santa-barbara/business-reviews/painting-contractors/j-c-s-professional-painters-inc-in-thousand-oaks-ca-92007136/" target="_blank"><img src="/wp-content/uploads/2016/08/bbb_badge_icon.png"></a></li></ul>
ACOUSTIC CEILING REMOVAL SERVICES
THOUSAND OAKS & WESTLAKE VILLAGE, CA
"Acoustic Ceiling" or "Popcorn Ceiling" are terms for a spray-on ceiling treatment used from the late 1950's into the 1980's in American residential construction. It was the standard for residential bedroom and hallway ceilings characterized by its bright, white appearance, ability to hide imperfections and acoustical characteristics.
Today there are more attractive, desirable and safer ceiling textures available.
Why should I have my Popcorn Ceiling removed?
Removing Acoustic ceilings has the ability to create "height" and provide a "fresh, modern-look". "One of the quickest ways to update a home is by removing Acoustic Ceilings", says J.C. of J.C.'s Professional Painters, Inc., "and our process involves minimal mess."
Acoustic Ceilings can also pose a potential health hazard because of the cancer-causing chemical(s) in Asbestos.
How do you complete an Acoustic/Popcorn Ceiling Removal project?
The first thing we do is protect the client's furniture with plastic and drop-cloths. If the walls are not part of the painting project, they too will be covered with plastic. "We surround the room to be scraped with plastic to protect nearby living spaces from falling material.
Carpets and floors are also protected with two layers, carpets with "Carpet-Shield" and hardwood floors with heavy-duty-grade "Rosin Paper", and a temporary plastic floor cover serves as the second layer to catch the scraped "popcorn material".
We typically wet the surface with a spray gun and remove the popcorn material with a putty knife to get the cleanest cut possible.
Once the removal process is complete, the plastic floor covering is rolled-up to contain the material to be discarded, leaving a clean, covered floor behind.
The ceilings are then given 24 hours to dry, then sanded to remove any leftover material.
The new surface is sealed and patched as needed making the ceiling as even as possible.
The ceiling is then sanded a second time to achieve a smooth and even finish. A "smooth finish" is an elegant look, but there are many ceiling textures from which to choose depending upon the look one wants to achieve. "Knockdown", "Orange Peel", "Sand-Trowel" are a few popular choices. "The most challenging aspect of removing Acoustic Ceilings is achieving an even-finish," says J.C., "keep in mind, Acoustic Ceilings were originally used to hide imperfections. We never know what we'll find once the Popcorn has been removed. There is an art to creating an even ceiling, and our crew has mastered that art."
After the desired texture is achieved, two coats of primer and two coats of finish are applied. And the results are absolutely stunning!
FEATURED TESTIMONIAL
"We could not be happier…"
Until now, I haven't been satisfied enough to write a referral for a contractor. This changed after J.C.'s Professional Painters painted the interior of my home. It was an extremely large job which included removing acoustic ceilings throughout the house. The work was second to none. The crew arrived 15 minutes early and stayed after work to clean up everyday, making sure we had a functional kitchen, living room, and bedroom. J.C. helped us in selecting the colors for our home with which we could not be happier.
– R. E. Kelly, Thousand Oaks
What communities does JC's Professional Painters serve?
We serve the Conejo Valley and surrounding areas; Westlake Village, Thousand Oaks and Agoura Hills.